Horsemanship Camp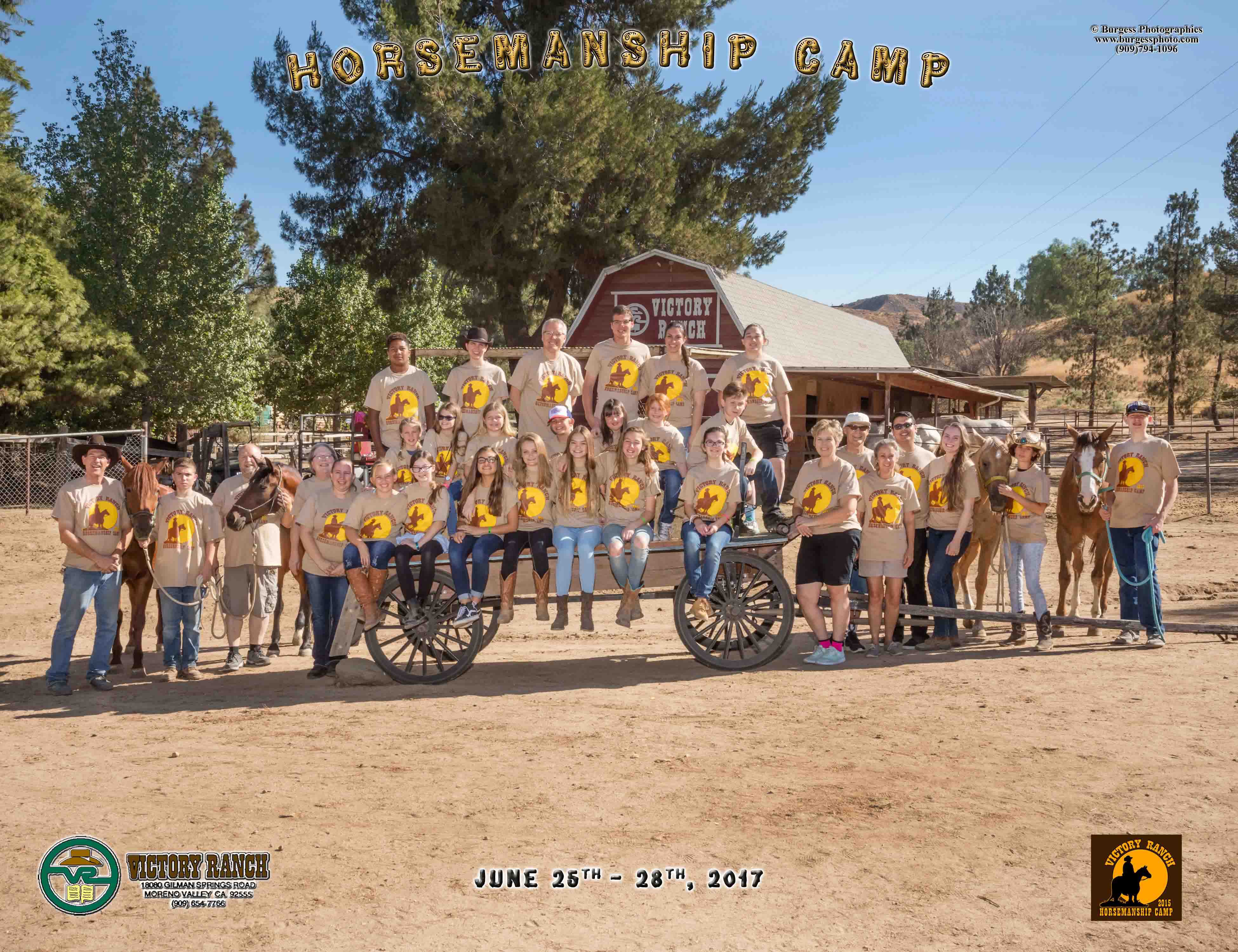 Basic Horsemanship Camp 
June 24 - 27, 2018
Cost:  TBA
 Early Bird Discount: Register & PAY IN FULL by June 1 to save $10 off the price of your Horsemanship Camp registration!
Camper registration/check-in begins on Sunday at 3:00 p.m.
Camper pick-up is on Wednesday at 3:00 p.m.
For a fourth year Victory Ranch is offering a BASIC Horsemanship Camp.  This camp includes an introduction to riding, daily trail-rides (included in the cost of camp), and classes on horse anatomy; saddle and bridle; horse colors, markings, and breeds; grooming; diet; and hoof care.  There is daily chapel time, games and activities, and time to cool off in the pool. The tentative schedule is listed at the bottom of this page.
This camp is first-come, first-serve to the first 18 registrants paid in full.
ONLINE REGISTRATION IS NOT YET OPEN.
By registering online, the following options are available:
Register Only – Select this option to register only and then mail the deposit or full payment by USPS.
Deposit Only

 – Select this option to register and pay only the $50 deposit.

Full Payment – Select this option to register and pay the full amount for your child's week of camp.
**All credit card transactions include a $5 processing fee.**
The $50 non-refundable deposit is due by June 1, 2018, to secure a place for your child.  To receive a $10 discount, please mail in the BALANCE DUE or the FULL PAYMENT by June 1, 2018.  Registrations postmarked after June 1 will be accepted on an "as space available" basis.  Please call the office to check availability.
A PRINTABLE VERSION OF THE REGISTRATION AND HEALTH FORMS ARE LOCATED AT THE BOTTOM OF THIS PAGE UNDER "ATTACHMENTS."  These forms MUST be filled out completely for each camper that attends summer camp.  If registered online, please print and complete the Health Form page and either mail it to the camp or bring it to registration/check-in.
Additional Information:
Parents, PLEASE READ this Health/Safety Info.
VR DRESS STANDARDS - Each camper and staff member is expected to abide by these guidelines while they are here at Victory Ranch.  All camp attire should be modest.
WHAT TO BRING TO CAMP:  Bible (non-electronic), pen, notebook, pillow & bedding, toiletry items, towel, sunscreen, modest one-piece swimsuit (girls) or swim trunks (boys), nice clothes for evening chapel, play clothes, jeans, closed-toed shoes, flashlight, water bottle, medications (in original container), camera, spending money (for General Store/Snack Shoppe, crafts, etc.), and a FRIEND too!!!
PLEASE DO NOT BRING:  Fireworks, tobacco, alcohol, drugs, weapons, playing cards, radios/CD/MP3/I-Pod players, cell phones, magazines, or electronic games.
The Ranch reserves the right to send home at his/her own expense, and without refund, any camper who brings any of these prohibited items and/or is rebellious or disobedient.
"Mail Time" is a daily highlight!  Please send letters with your camper's name & cabin, c/o Victory Ranch, 18080 Gilman Springs Rd., Moreno Valley, CA 92555.  (We do not accept emails.)  We ask that campers do not phone home or have parents call except for emergencies.
Medications MUST be given to the First Aide Director for dispensing and supervision.  Please bring medications in original bottles with child's name clearly marked.  Secondary medical insurance is provided; family insurance is primary.
The Bunkhouse and Las Flores cabins provide comfortable sleeping arrangements.  All dining, meeting, and living facilities are cooled.
Victory Ranch is a ministry of the General Association of Regular Baptist Churches of Southern California.  The Ranch seeks to provide for both the physical and spiritual needs of its campers in an environment which influences and is set apart to the work of God in our hearts and lives.
Tentative Horsemanship Camp Schedule:
Sunday
3:00pm

Check-in
Unpack, settle in, and meet cabin mates

4:00pm
Orientation
5:30pm
Dinner
6:30pm
Meet Horses & Learn where Equipment Is Located
7:30pm
Evening Chapel
8:30pm
Pool
10:00pm
Cabin Devotions & Lights Out
Monday - Tuesday
6:30am
Rise & Shine
7:00am
Feed Horses & Animals
8:00am
Breakfast
8:45am
Morning Workshops & Trail Rides
12:00pm
Lunch
12:30pm
Siesta
2:00pm
Afternoon Workshops & Trail Rides
5:30pm
Dinner
6:30pm
Feed Horses
7:30pm
Evening Chapel
8:30pm
Pool
10:00pm
Cabin Devotions & Lights Out
Wednesday
6:30am
Rise and Shine
7:00am
Feed Horses & animals
8:00am
Breakfast
8:45am
Morning Workshops & Trail Rides
12:00pm
Lunch
12:30pm
Pack-up, Clean-up, & Room Inspection
1:00pm
Afternoon Workshops
2:45pm
Wrap up Session
3:00pm
Ride Off into the Sunset (In Your Parent's Car)